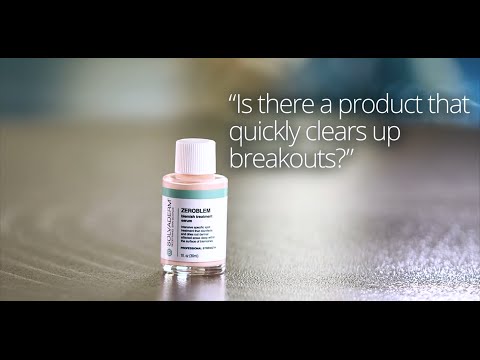 Revolutionizing
Cosmetic Dermatology
Discover Solvaderm's Professional Strength Products For Healthier And More Beautiful Skin.
Zeroblem is a highly-concentrated spot treatment designed to clear up acne, blemishes, and breakouts while promoting healing and improving your skin's overall condition. This power-packed, professional-strength formula contains clarifying compounds that purge your pores of oil, dirt, and other impurities to resolve imperfections and give you a blemish-free complexion. It also disinfects your skin to rid it of damaging bacteria, optimizes skin's pH balance, and effectively soothes swelling and irritation. An easy-to-apply, non-greasy treatment that does not contain harsh ingredients, it targets multiple underlying causes of breakouts to leave your face clearer, more resilient, and evenly toned.
Usage
Apply Zeroblem directly to individual pimples and blemishes using a clean cotton swab after cleansing and toning. Allow to dry and leave on overnight, rinsing with lukewarm water in the morning.
Ingredients
Colloidal Sulfur: a naturally occurring element that calms severely irritated skin, relieving redness, itching and inflammation.
Zinc Oxide: helps eliminate excess oil on the skin surface to prevent the development of pimples and acne; relieves the pain and swelling that often accompanies skin breakouts.
Salicylic Acid: a Beta-Hydroxy acid with an effective, yet gentle exfoliating effect. It removes dead cells that clog pores and contribute to breakouts, while helping to dissolve greasy build-up on the skin surface.
Benefits
Can be applied directly to individual pimples, helping them heal quickly without scarring
Eliminates excess oil on the skin surface for a more balanced complexion
Reduces the occurrence of further breakouts, improving the long-term health of the skin
Uses highly concentrated ingredients that work effectively without causing harm
Won't leave the skin feeling too dry or tight
The FDA has not evaluated these statements and this product is not intended to cure or prevent any specific skin condition. Remember to read our labels and ingredient lists carefully and always follow the directions for application. If you have a history of skin allergies, a skin patch test is recommended before use. Avoid ingredients that are known to trigger an allergic reaction and discontinue use immediately should a reaction occur.